Invitation to designing a cover page and submit articles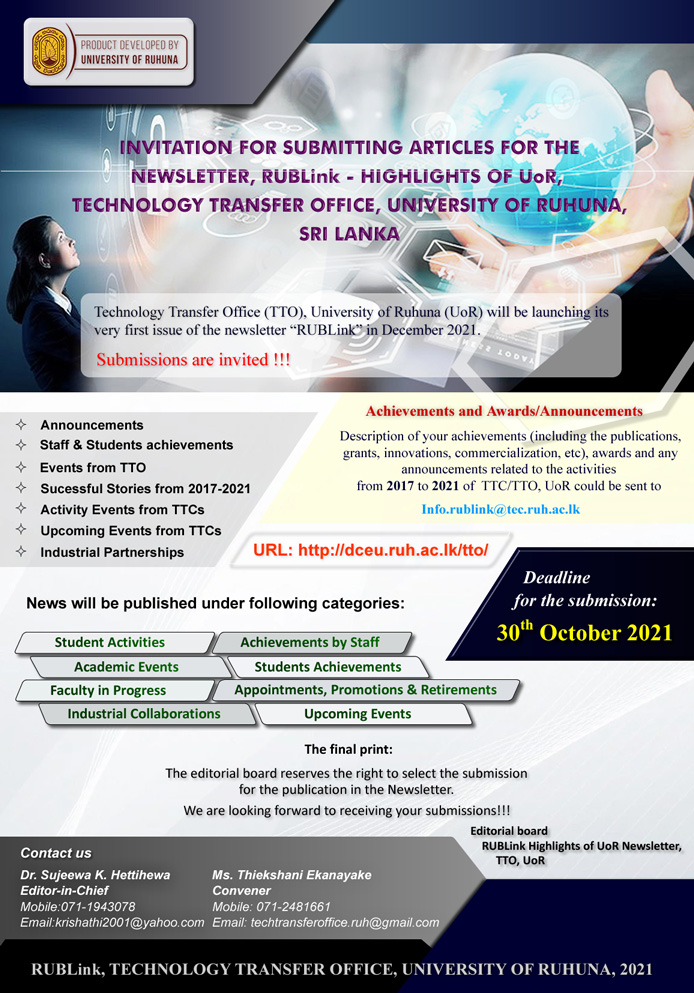 Please click here to download guidelines
Editorial Board of the RUBLink Newsletter of Technology Transfer Office, University of Ruhuna, cordially invites all staff members and students of each faculty of University of Ruhuna to submit designs for the cover page of the Newsletter.
The following details should be included into the cover page.
• Name of the newsletter
• University logo
• Technology Transfer logo
• ISSN number and URL (a best place to include)
• A picture can be included
(preferbly representing the "Inventions and innovations")
• It should be colorful/attractive
• A4 size cover page
Submit your designs on or before 01st October 2021
to the Info.rublink@tec.ruh.ac.lk
We appreciate your creativity.
The editorial board will select the best design of the cover page out of all received and the designer will be awarded a certificate signed by the director of the Technology Transfer Office, University of Ruhuna
Editorial board
RuBLink Newsletter
TTO, UoR
For any query, please contact:
Dr. Sujeewa K. Hettihewa|Editor-in-Chief|071 194 3078
Mrs. Thiekshani Ekanayake|Convener|0712481661