"A European initiative for capacity building to meet the challenges of caring for people with neurodegenerative disorders in Sri Lanka"
Department of Nursing, Faculty of Allied Health Sciences, University of Ruhuna (UoR) is in connection with a Erasmus+ project named as "nEUROcare – a European initiative for capacity building to meet the challenges of caring for people with neurodegenerative disorders in Sri Lanka", Capacity Building in the field of Higher Education (CBHE). This is a Joint Project through the main coordination of Kristianstad University (Sweden) with partner Universities in Europe and Sri Lanka namely University of Triskelion (Norway), University of Ljubljana (Slovenia), University of Tartu (Estonia), Neapolis University Pafos (Cyprus), University of Colombo (Sri Lanka), University of Peradeniya and Kotelawala Defense University (Sri Lanka).
The project addresses the essential priorities set by the CBHE, Curriculum development in "health" is of a priority in Asia. The four universities are covering the area of the highest population density in Sri Lanka, and there is a significant need to increase the capacity to train healthcare students and healthcare professionals about neurodegenerative diseases (NDD). By doing so, the project adheres to the CBHE Joint projects focus by developing a new curriculum and continuous training. The staff from University of Ruhuna will further benefit by learning new methodologies and pedagogical approaches because they are actively involved and designing the courses together with their European counterparts. This will enhance their teaching competence in all subjects they are teaching at their university. This will also contribute to the strengthening of the internationalization of University of Ruhuna as well as increase the capacity to conduct research in this area.
The ultimate target of the programme is to establish either a postgraduate certificate or postgraduate diploma of NDD and Masters of NDD by coursework in each Sri Lankan partner University with the accreditation before the end of the project time life the academic programme and be implemented continuously.
The project proposal has been approved for granted funding by the European Union and the total grant of the project is 828,236.00 EURO with three years' time duration starting from February 2022 to January 2025. Out of the total budget granted, 67,405.00 EURO has been allocated for the University of Ruhuna under the five budget items consist of staff costs, travel costs, costs of stay, equipment costs, and subcontracting costs.
The above project activities are coordinated through the office of the Center for international Affairs, University of Ruhuna.
The project implementation team from University Ruhuna include Dr. RHMPN Rathnayake (Manager and Trainer), Dr. BI Wickramarachchi (Trainer), Dr. SMTD Sundarapperuma (Trainer), Dr. KGP Nirmani (Trainer) and Ms. KKPMK De Silva (Trainer).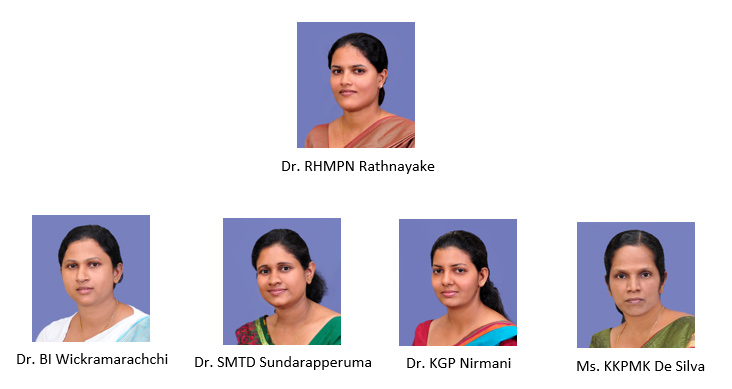 Workshops
The 1st workshop of this project was successfully held in Water's Edge Hotel, Kotte which was hosted by University of Colombo during 7th – 11th February 2022. (Click here to view more information)
The 2nd workshop of this project was successfully held in Sweden which was hosted by Kristianstad University during 9th – 12th May 2022.(Click here to view more information)
The 3rd workshop of this project was successfully held in in Estonia which was hosted by Tartu University (Click here to view more information)